Find stories, riders,
ambassadors

Motul
19 November
What does it take to keep a world-championship-winning bike running race after race? Tim Gajser just won another MXGP World Championship, but he couldn't have done it without a proper team behind him. Especially not without his main mechanic and right-hand man Nicolas Nogé. What does it take to maintain a winning MXGP bike? Nicolas shares his side of the story.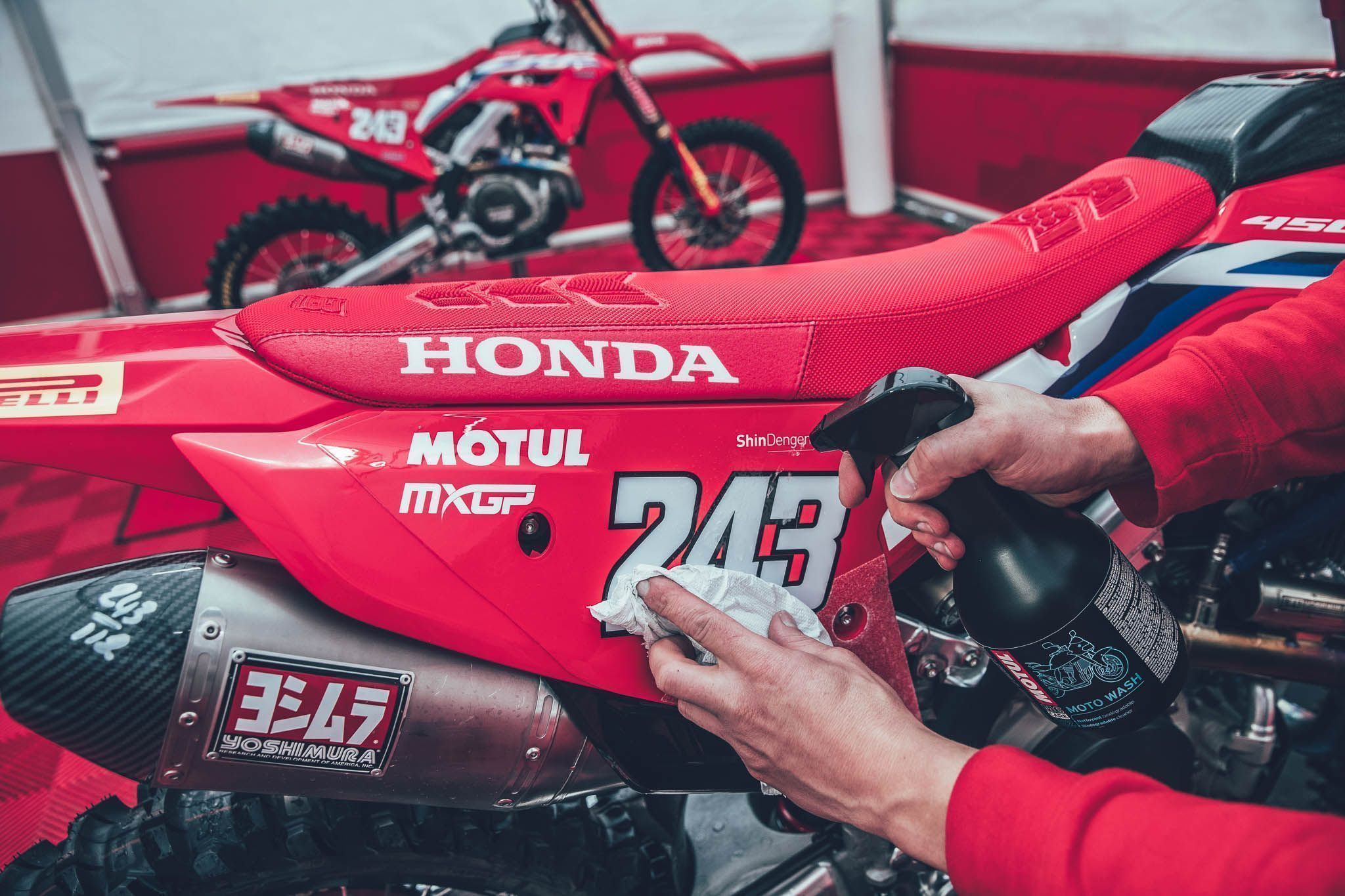 Nicolas, what does a race day for you look like?
Early start. Make sure the bike is ready. Tim goes out for practice. After the 30-minute session, I take the bike and wash it using Motul's Moto Wash. When it gets back to the tent, I dry it. After that we change the oil. Actually, we change the oil after every session. I then check the bike, clean the chain and add chain grease. I also lubricate all the other moving parts and Tim is good to go for the first race. In between races we might also change the clutch. However, that mostly depends on the conditions. But in the sand of Lommel Tim has to lean heavily on the clutch so we take no chances. We always have enough spare parts, so we change it whenever we feel it's necessary. The entire service in between sessions usually takes one hour to ninety minutes.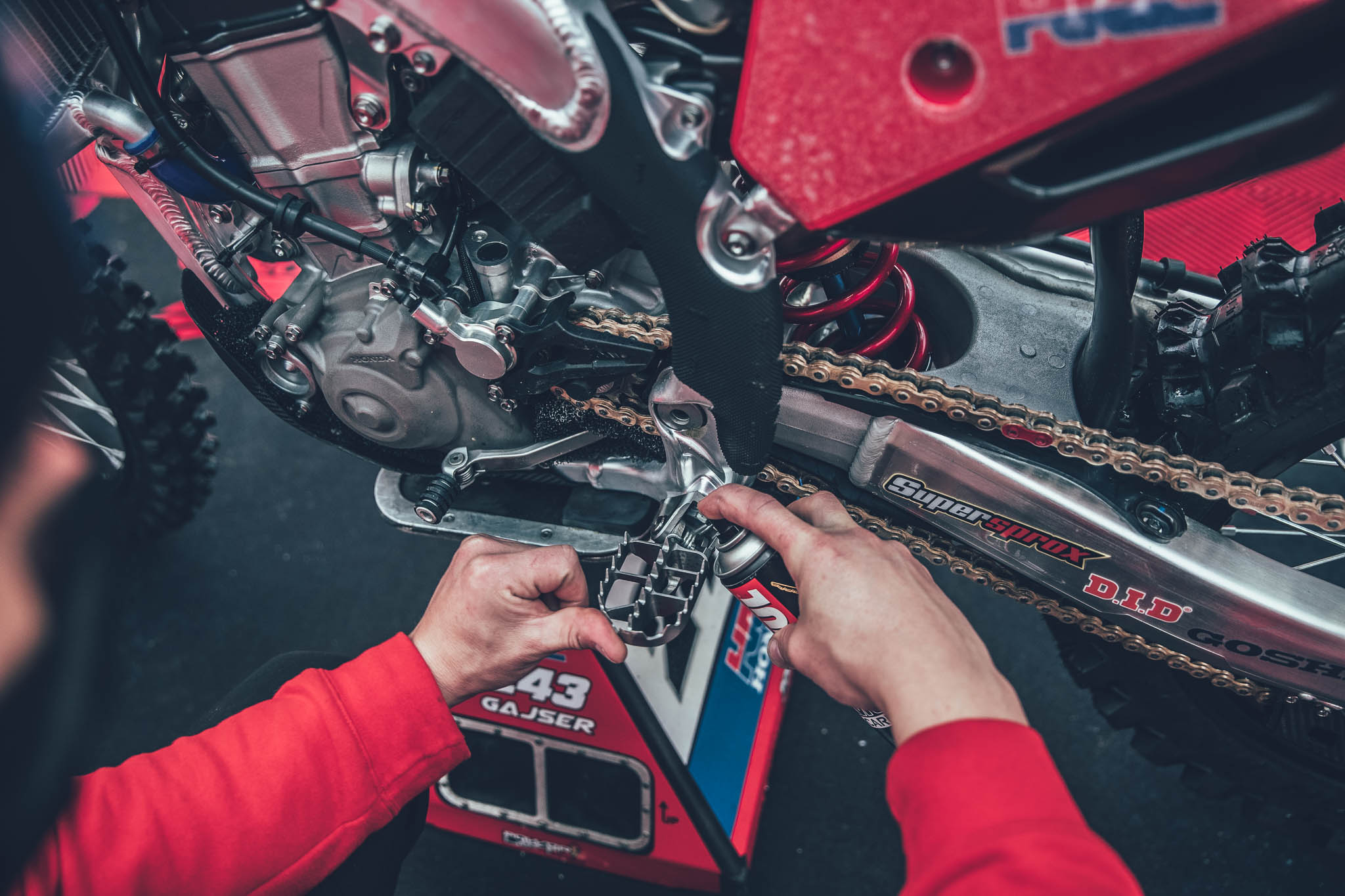 What happens to the bike in between race weekends? Is it completely taken apart?
For the most part, yes. The first thing we do after the race is to take out the engine. Our chief mechanic Massimo will take it apart and rebuild it. He'll replace whatever needs replacing. Some parts are used for two or more weekends, other parts we change every weekend. This always depends on the conditions, our feedback and Tim's input. Showa also takes care of the suspension and our Showa engineer will take apart the entire suspension and revise it as well.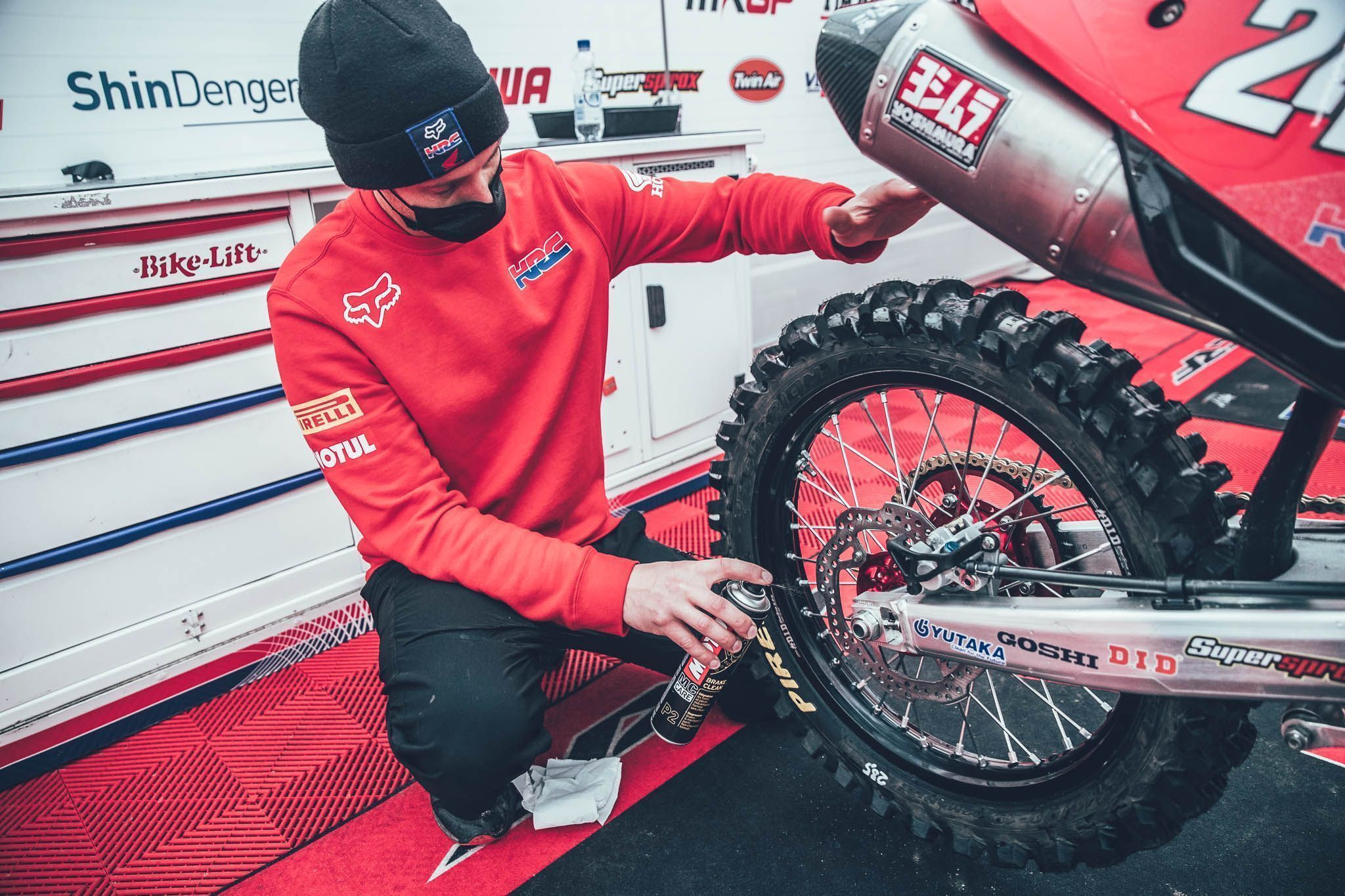 Does Tim spare his bike, is he "nice" to it?
I have to be honest. Tim isn't very nice to his bike. He's got a world championship to win and he uses every little bit that his bike has. It's up to me to make sure that the bike can deliver again in the next race.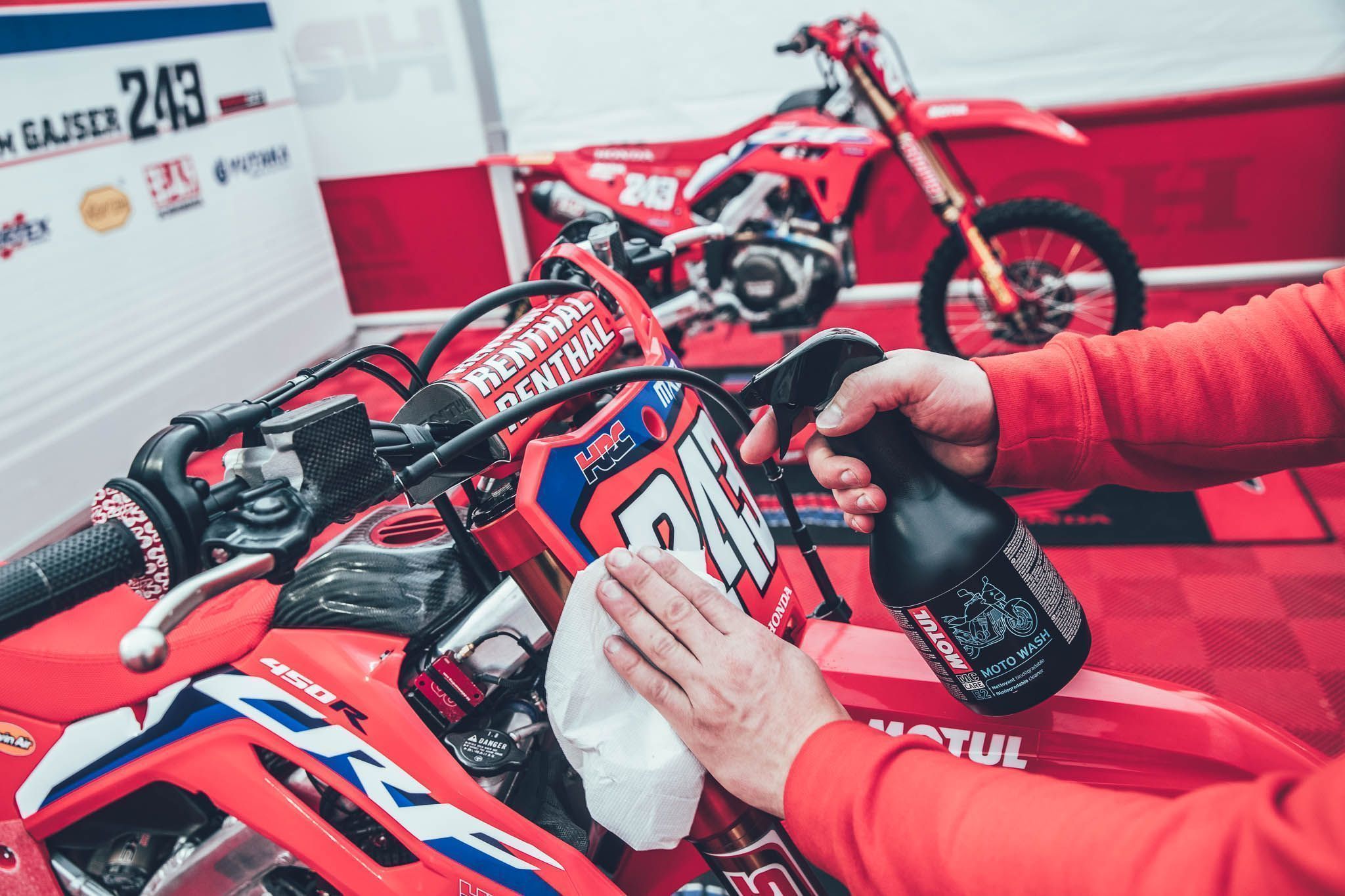 What Motul products do you use to keep this show running?
Obviously, we use Motul 300V 5W40 in the engine, and for every change we use 1.25 litres. Next to oil, I believe we use even more brake cleaner [laughs]. We go through multiple canisters every weekend. In order to keep everything running smoothly, we use off road chain lube and EZ lube. To keep the bike clean we obviously rely very heavily on Moto Wash.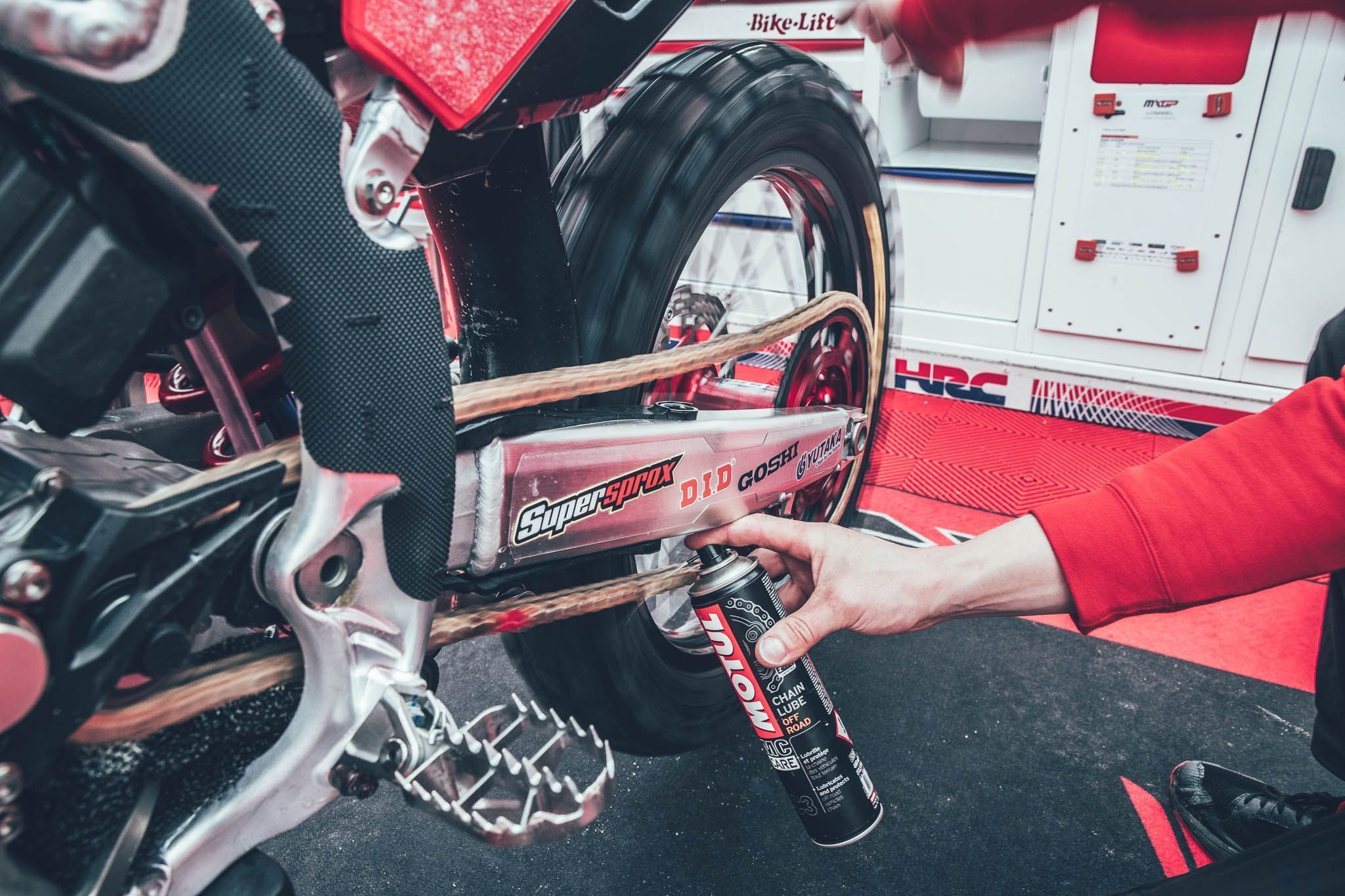 When you send Tim off to the start line what goes through your mind? Your job is done, now it's up to him?
That's a good question. I don't believe anyone has ever asked me that. I'm definitely sure about my work. I know how to do my job. But anything can happen so I'm always a bit nervous because we're here to win a championship and the stakes are always high. To feel the pressure is very normal.