Find stories, riders,
ambassadors

Motul
10 October
The 2017 Wheels & Waves event touched down in Biarritz this summer, bringing its own special blend of custom cool two wheel action, wrapped up in a laid back vibe. Yamaha's Faster Sons were a defining presence again this year, getting stuck into the heart of both the action, and the chill out. Having set up base at the Cité de L'Ocean with a stunning set of Yard Built machines, Faster Sons then rode into Spain to slide round the track for the infamous El Rollo flattrack races, winning the Hooligans race with Marco Belli on an SCR950. Culture followed with the Art Ride before it was time to test the mettle up on the mountainside at the Punks Peak Races. Trophies were won, new friends made and the Faster Sons philosophy shared amongst the thousands of motorcycle enthusiasts who made the pilgrimage to the heart of Basque country in search of wheels, waves and motorcycle freedom.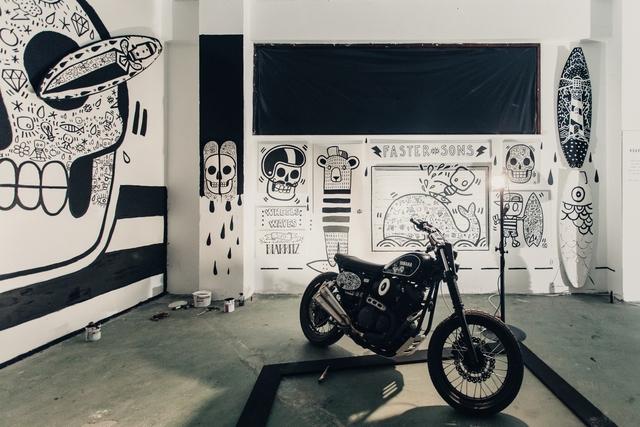 This year's event saw eight diverse Yard Built projects from different countries across Europe, built in collaboration with local national builders, Yamaha distributors and motorcycle media. All builds were based on either the Yamaha XSR700, or XSR900, proving again that the two make the perfect base for personalisation. Eight different project builds with the same approach typical of the Yard Built program of no cut or major modification to the frame delivered stunning bikes; each one with its own mood that reflected the builder's style.
"We are very happy with this project because we were again able to show how the XSR is a perfect base for every kind of customisation! Of these eight bikes no one is like the other, each builder saw something unique in the base bike and their vision went on to deliver these inspired creations. Considering the rules of being fully ridable and without any major modifications to the frame, it is incredible how they are all so different!" - commented Cristian Barelli, Marketing Coordinator, Yamaha Motor Europe.
"Bikes are made to be ridden, not just to be beautiful, so to prove the rideability of all eight Yard Built machines they were entered into, and raced hard, in dedicated trophy races at the legendary Punks Peak race. The builders embraced the perfect Faster Sons spirit. See you next year in Biarritz!"
Sourse:
https://www.saltiremotorcycles.com