Find stories, riders,
ambassadors

Motul
26 September
Maxwell Hazan's latest creation rolled out the Workshop after several Months of constructing, welding, engine-tuning and detailing. It was time to let the beast reveal its real speed potential. Where else would be the best place than the dried-out Salt Lake at Bonneville in Utah, USA? We interviewed Maxwell Hazan about his Need for Speed.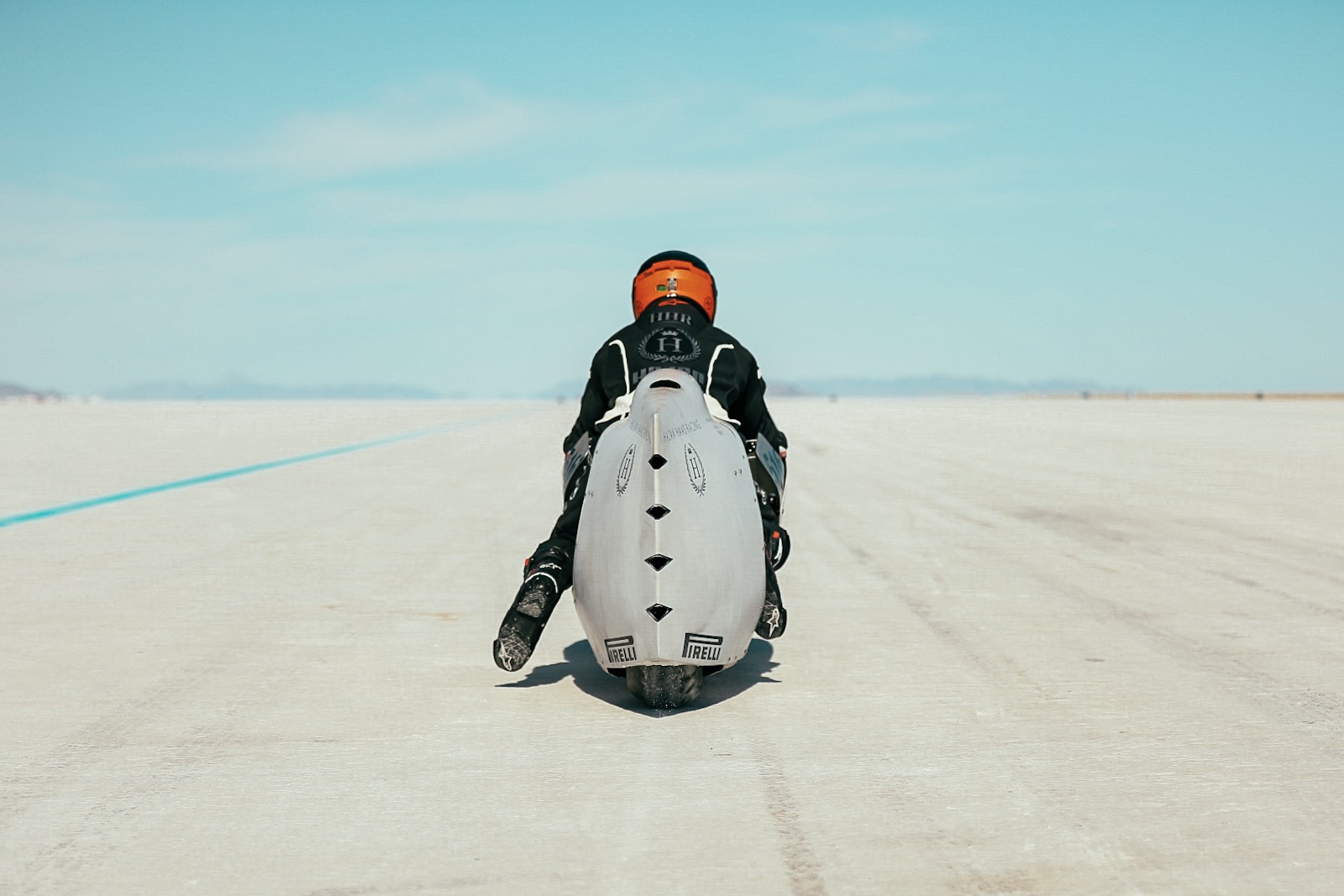 Maxwell, you have been participating at Bonneville Salt Lake two weeks ago, how strict are the regulations to make it an official world record?
You have two main governing bodies, the main one in the USA is the SCTA organization, besides them you have the FIM, that's another, they are more worldwide'. Strangely enough the FIM world records tend to be a little lower in terms of top speed than the SCTA, which stands for Southern California Timing Organization. Of course, we aimed for the highest top speed, so we decided to enter the world of speed event which is late in the season and tends to have the best salt conditions... I attended speed week a month prior and almost crashed the bike in the wet salt... the two bikes after me crashed, so we called off.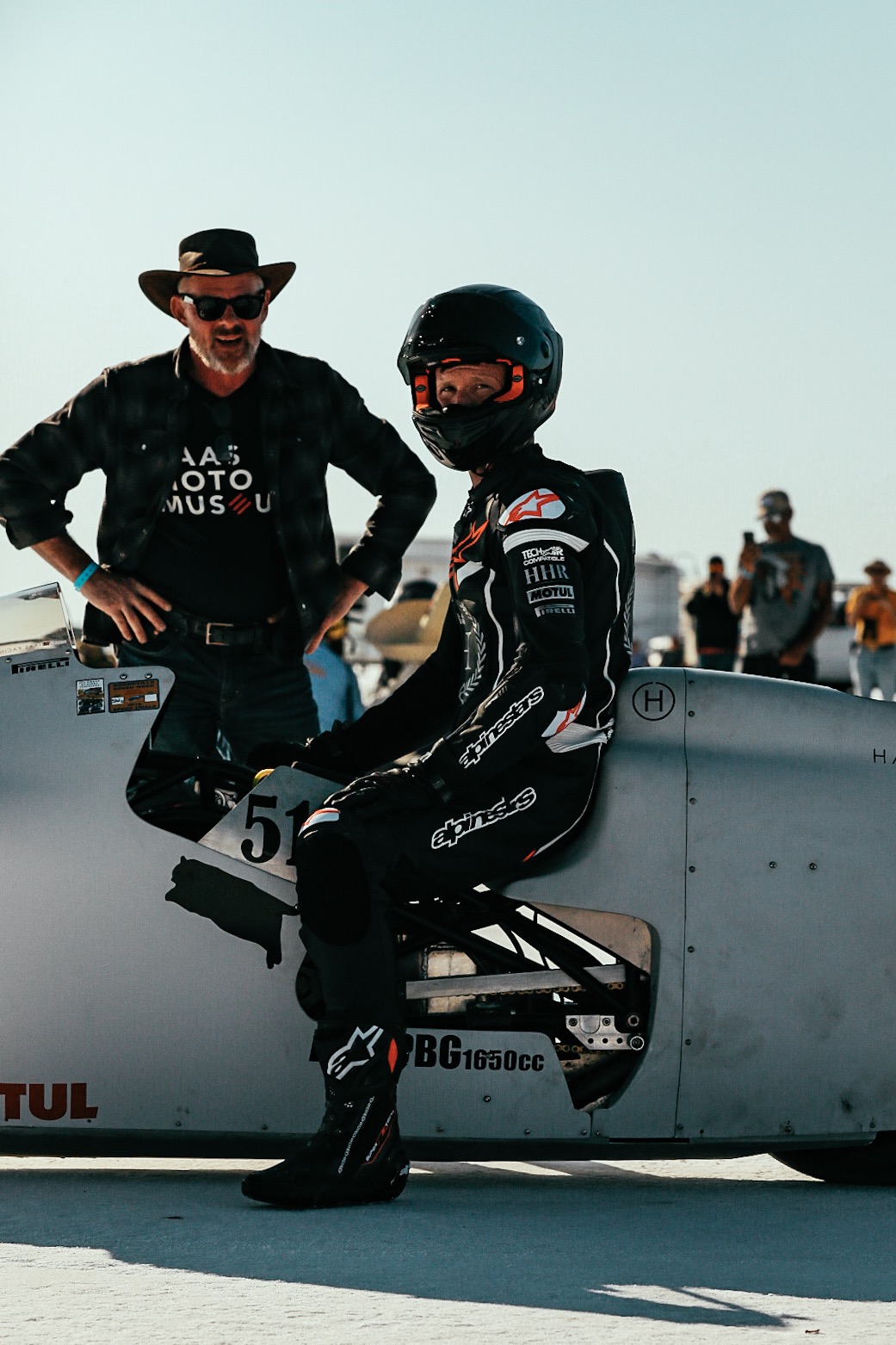 The Bonneville SCTA organization has several different classes. Which one were you in?
We were in the 'Pushrod Blown Gas Class', these are mostly Harley and vintage bikes that don't use an overhead cam. We had a much faster engine than the previous record owners, it almost looked like we were cheating but it wasn't. Running a V4 with a big turbo mounted on it, we had a big power advantage, even on the tame setting (14psi boost). In this class Superchargers and Turbochargers are allowed but everyone uses the same regulated race fuel.
You have been working hard on the Motus bike last Months, how did the built went?
Actually, the built is an assignment of my client and good Friend Bobby Haas, who is the founder of the Haas Moto museum. Looking back at this project, the choice for a full custom partial streamliner gave us the most versatility. You can be the most creative with your bike, as you're able to design the full frame, mounts, setup and the fairing from scratch. The only rule from the SCTA is you have to have to see the rider from any angle. It has to be a sit-on Motorcycle, not a rocket on two wheels (laughs). That would set you in the streamliner class where top speeds of 400 miles per hour are no exception. It's also a very expensive class to compete in.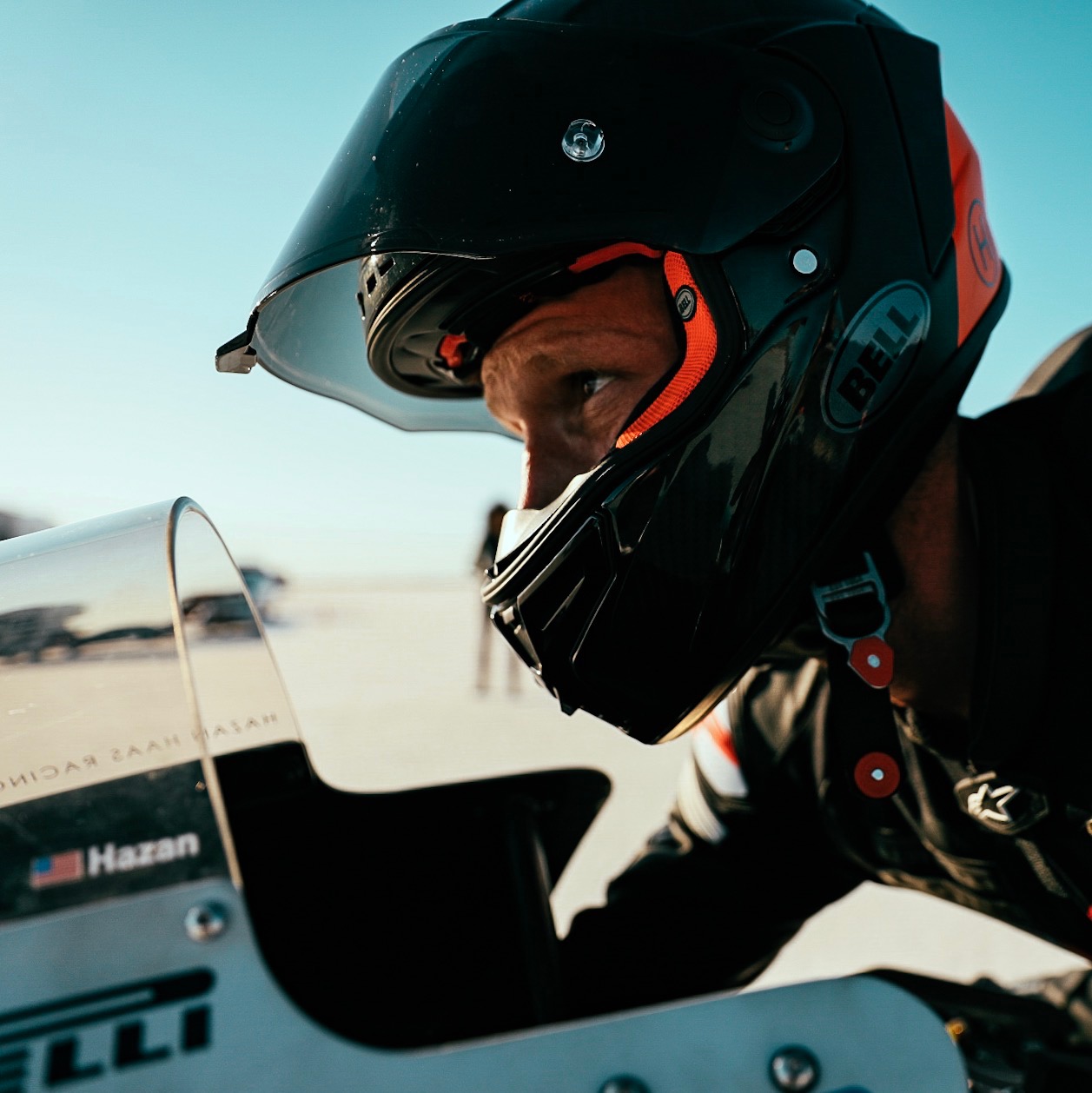 Was it a difficult target, this speed record?
The record I thought I had to beat in my class is 240 mph. After informing, this team was in a bigger engine class. We were lucky finding that out after the built was finished, because we were in a lower cc class than we initially aimed for. This gave us some margin.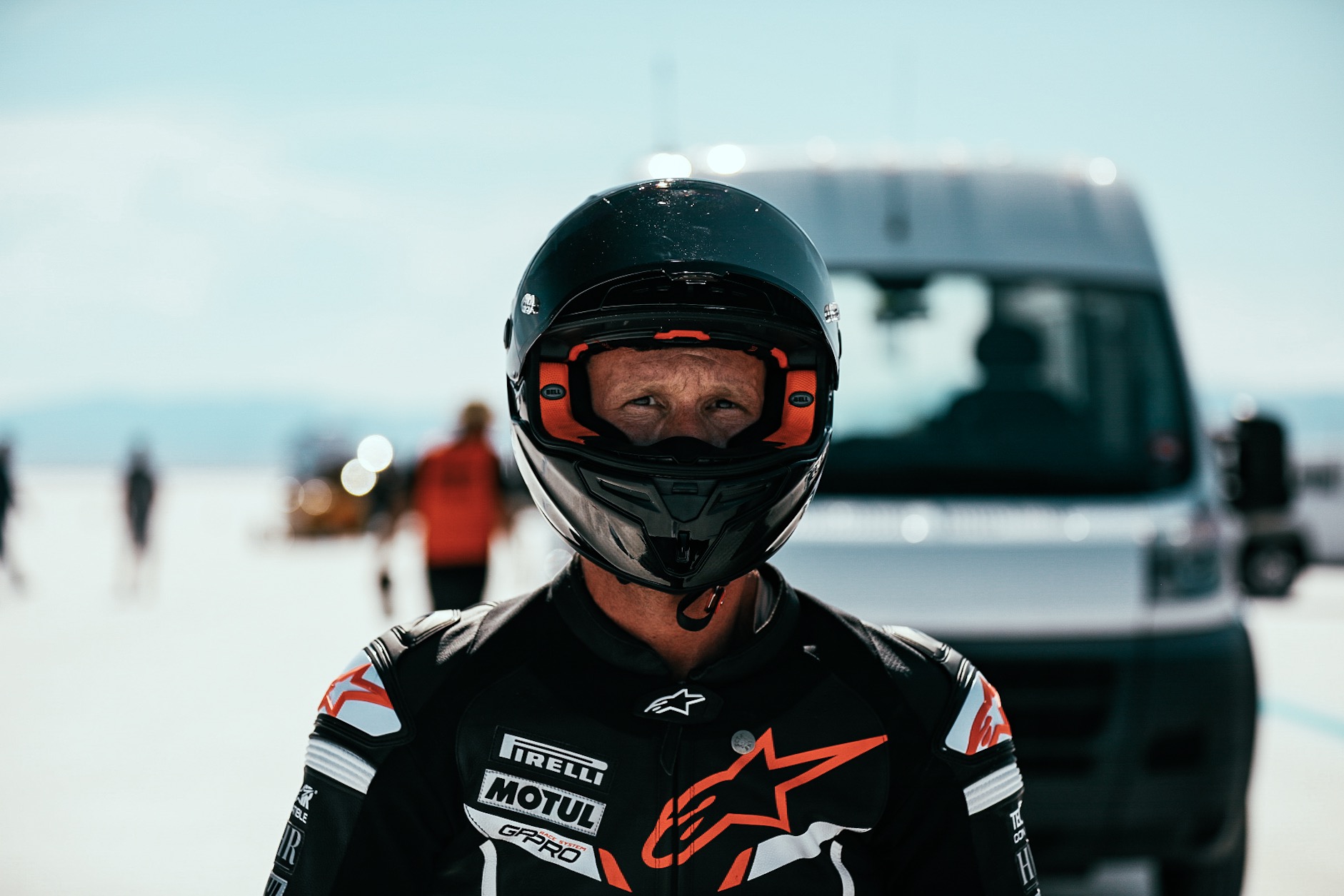 We talked about the built as such, earlier this year. Now the official world record has been broken, what's up next with this bike?
As it is an assignment, I'd have to ask Bobby for permission to run it again. Our second problem was, you have to do two runs to register the world record officially. During my first run, I couldn't control the bike on high speed as it was starting to shake even at partial throttle. Still we managed to reach 185 mph just rolling through the finish line. On the second day once I realized what the problem was, I managed to control the bike and we officially reached 207.9 mph the timed mile with a peak top speed on the GPS of 215 mph. Yet we still had a reserve of 2,000 rpm to go. The waiting is frustrating though, it takes hours and hours before you can do a second run, by the time you're at the starting line the weather conditions might have changed again… So, we decided not to go for a third run and come back another time for an even higher speed. That is if Bobby allows me (laughs)!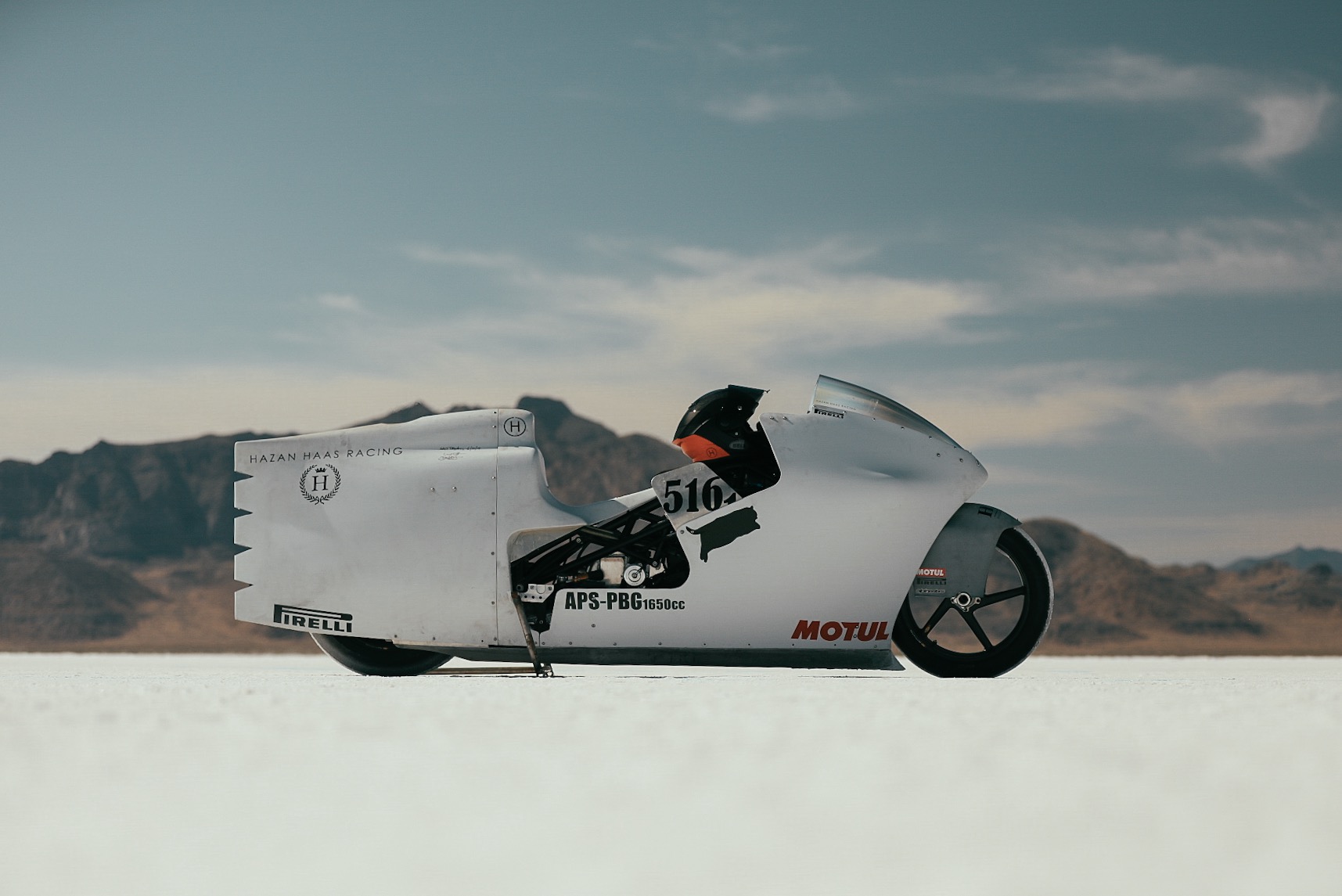 I wanted to go much faster but couldn't figure out how to control the bike until 2/3 of the way into the last run, I basically braced my arms against the fairing an was able to stop the wobble...it had lots of power left, I just ran out of time. The one thing most people don't know is that it's nothing like riding on pavement, there are ruts left by thousand horsepower cars and it's very slippery, I could barely open the throttle until I was in 6th gear nearing 200mph.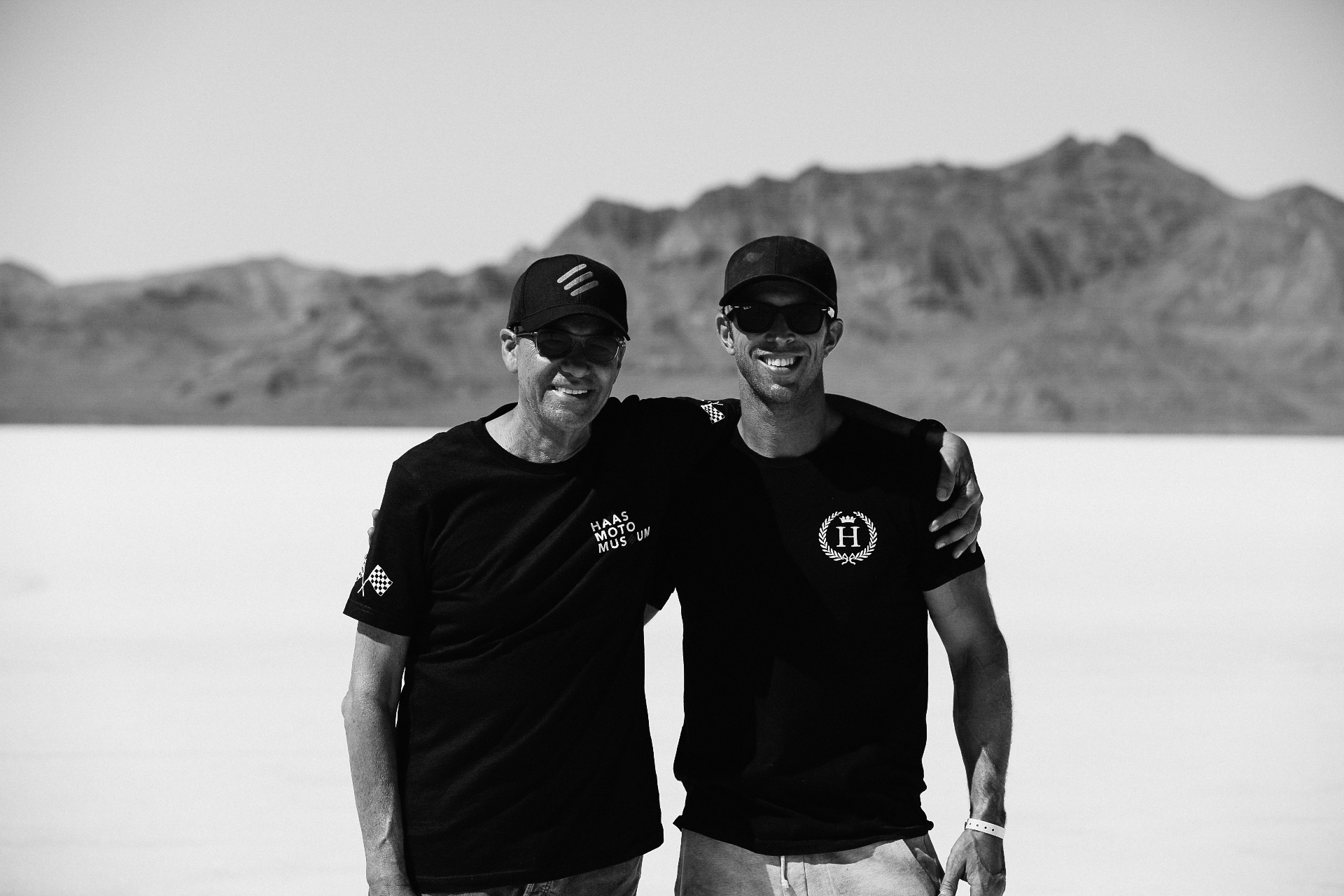 Motul and Pirelli are your official partners?
Yes, we collaborate on all possible ways. For my personal riding in the desert on off-road bikes, for all custom builds in my workshop to performance racing such as this bike. The Motus engine is running on 300V competition oil. Pirelli is my official tire supplier. We've been talking to previous world record riders, and they all suggested to use slicks. Although the salty surface is quite slippery, what one would not expect, the tires can handle these kinds of top speeds and high temperatures.
Maxwell Hazan on Instagram: https://www.instagram.com/maxwellhazan/
Facebook: https://www.facebook.com/HazanMotorworks/
Picture credits © Shaik Ridzwan