Find stories, riders,
ambassadors

Motul
02 July
This weekend, more than 165,000 fans should have gathered at the TT circuit in Assen for what would undoubtedly have been another epic Dutch GP. Sadly, as with all motorsport events, it was cancelled. This is the first year since 1949 that the TT has not been run. But Assen has always delivered when it comes to racing, so we asked a few Motul Superfans to pick four legendary Assen moments…
1988 TT Assen 250cc: Dominique Sarron vs Sito Pons
Nothing gets the audience more on the edge of their seats than a last-lap tussle for the lead, and Assen has delivered plenty of them. However, when riders who want nothing more than to win put it all on the line in the last corner, things may end in tears. This was the case during the legendary battle between Dominique Sarron and Sito Pons. In the final corner of the final lap, Spaniard Pons left a tiny gap and Sarron went for it. Both riders, who were on the limit, collided and crashed handing over victory to the late Juan Garriga.
1991 TT Assen 500cc: an all-American dogfight
The battle between American riders Kevin Schwantz and Wayne Rainey is one that is firmly documented in the history books as one of the sport's most iconic rivalries. Wayne Rainey was in a rather comfortable lead but closely followed by a very determined Schwantz, who was really taking his Suzuki by the scruff of the neck and delivering a powerful display of forceful riding. However, it seems that despite his heroic efforts, Schwantz needed a few more laps to overtake Rainey and would miss out on the victory. And then the unthinkable happened.
2018: MotoGP Motul TT Assen: the race of 1000 overtakes
If it wasn't clear from the previous clips, Assen is a daunting combination of fast and slow corners. It makes for some of the most exciting racing you'll ever see. That was once again proven during the 2018 Dutch Grand Prix. In the closing laps, a six-way battle broke out between the Ducatis of Lorenzo and Dovizioso, the Yamahas of Rossi and Viñales, the Suzuki of Rins and the Honda of the man who would eventually come out on top, Marc Márquez. Let's just say that we've never seen a race with so much overtaking and committed riding. This is without a doubt one of the best races you'll ever see.
Motul creates its own legendary TT moments
The Motul TT in Assen is easily one of the highlights on the calendar and Motul always shows up in strength. In 2018, the company gathered all Motul Superfans from all corners of the world together for a grand Superfan Reunion.
Then, in 2019, we made use of the Friday practice day to host our own race in the centre of Assen city. This time it was a junior race for children in Motul pedal cars. The children were coached by professional riders Álex Rins, Joan Mir, Tito Rabat and Karel Abraham.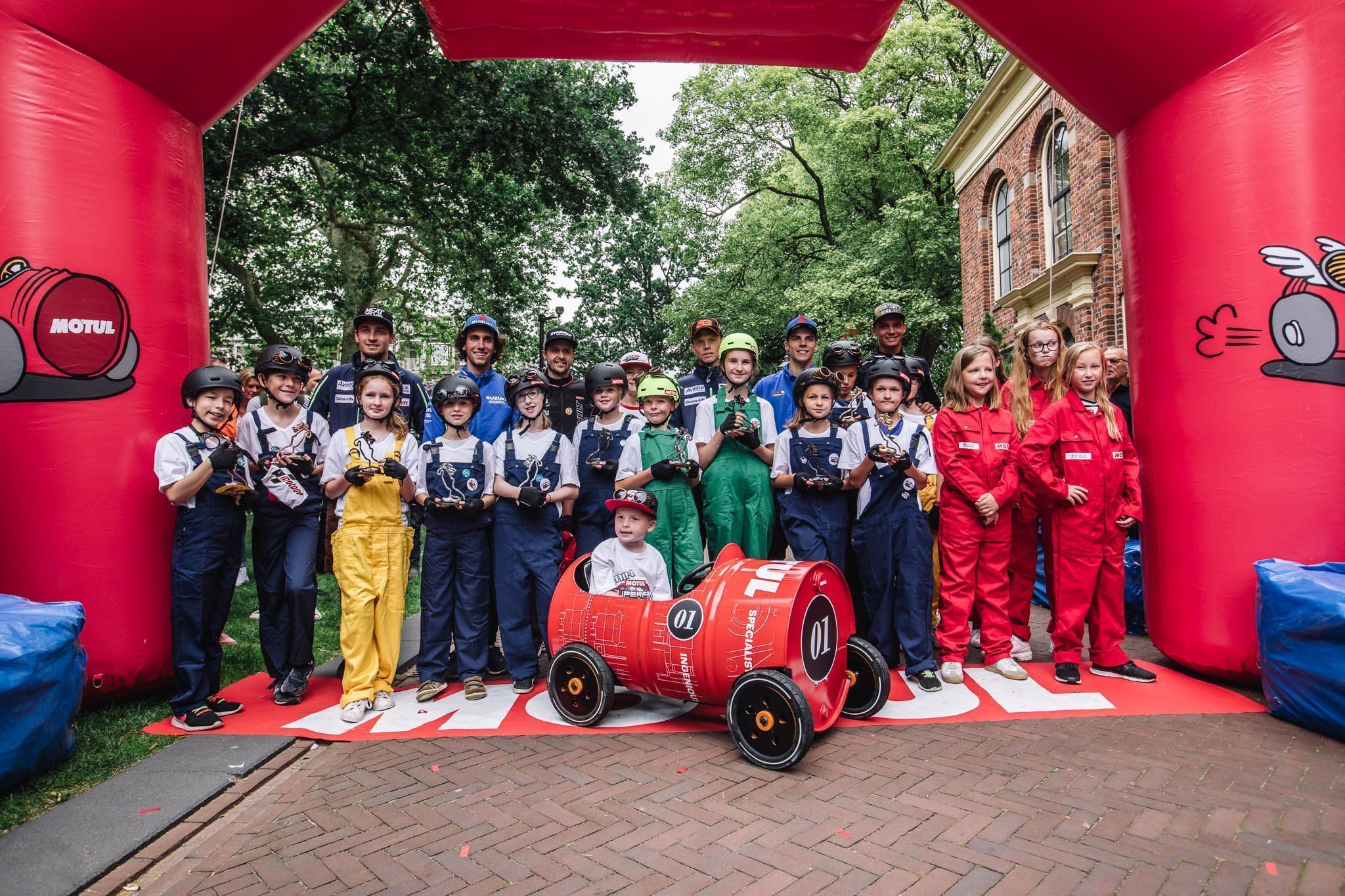 © Picture copyrights: Henk Keulemans, Frederik Herregods