Find stories, riders,
ambassadors

EmmaBristow
26 May
Wow it's been a busy start to the year, and I can't believe it's nearly June and nearly Summer. Not that you would think we were anywhere near summer with the weather we have in the UK right now! It does make it difficult to train and that is one of the reasons I have been to Europe several times this year already, as you may have seen in my social feeds. In this post I will share what happened on my most recent adventure across the channel…
My latest trip to Europe was to visit the Sherco Factory in Spain to collect my new bike, which I will be using for competition at this year's World Championship. Meet the team in France to do a couple of days filming to celebrate the launch of the new Sherco 2022 models and hopefully take advantage of some better weather and fit in some training along the way!
Traveling now is tricky so each time we go we must take COVID-19 tests and get a negative result, which is good as I want to keep everyone safe, and I load the van with plenty of disposal masks and gloves to keep safe while I'm away. So much to think about now! I used to just think, bike, boots, petrol… ok let's go - not anymore!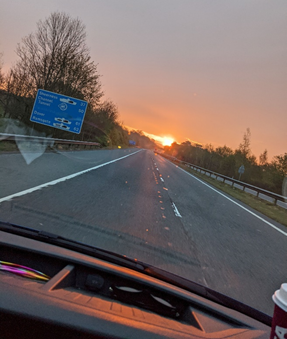 So, with enough PPE for an army, we set off early in the morning on May 2nd with a beautiful sunset. (I know typical, good weather as we leave the country). Anyway, this was the start of a Eurotunnel crossing and 12hour journey down to Girona, Spain. We arrived about 8pm at our hotel, ordered room service, took a nice shower, and watched a film on Netflix as we had an early start in the morning to get to the Sherco Factory in Spain to meet my new bike!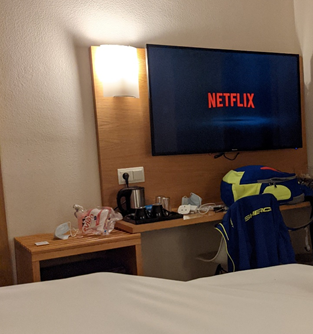 The following morning, we arrived at the Spanish Sherco Factory and my bike was waiting for me, looking so pretty and super special! After spending a couple of hours setting it up, having a coffee (I love a "Café Con Leche" on a Spanish morning) and catching up with the team we went out to test it. What a machine this bike is! Here's some photos of it for your viewing pleasure ????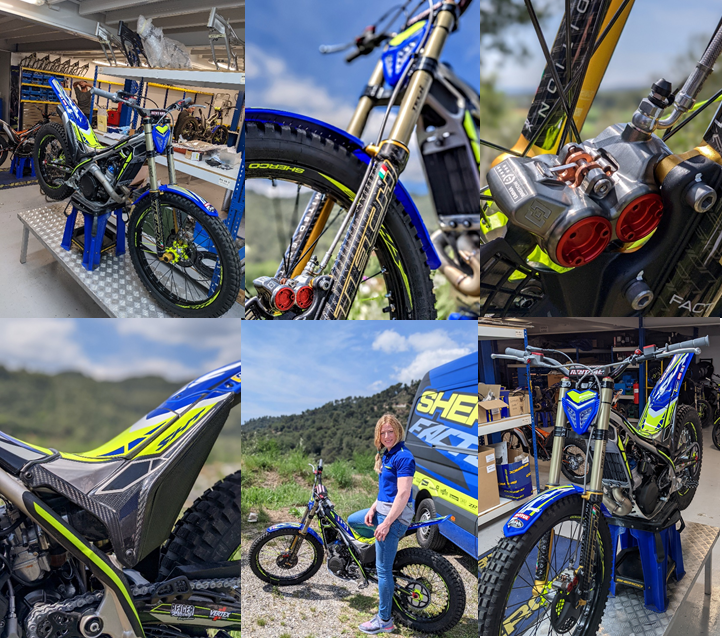 So, we, my husband and I (he supports me with everything I do) didn't finished testing the bike until around 8pm that night. We'd had a couple of days in the van and I wanted to stretch my legs! We then realised we had no hotel room for the night so got straight on Booking.com and found a hotel close to the Circuit of Catalunya, Barcelona. Another night of room service and straight to sleep ready to meet my team manager for a training session the next day.
We wake up grab some breakfast and hit the road again this time heading an hour north up to the Vic area. I complete a day's training under surveillance of the team boss, and he seems happy. He's made me a 6-section trial and we complete 3 laps in a competition type situation. Here's a unseen video from this day below: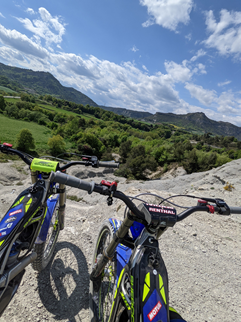 We finish and LLuis (team manager is happy) I have improved each of my laps going 4, 2, 1 and he tells me I won the trial ????. He knows how to make me smile! He then goes for lunch, but I decide to stay and do a couple more hours practise before deciding we really should start driving again as it's a 4.5hour drive north to Nimes in France (Sherco Factory France) where we have a hotel room for the night ahead of filming tomorrow.! Again, we arrive late – but this time no room service. I was hungry on route and didn't fancy eating late again so I cook a can of beans on my gas stove with some baguette I bought from the bakery earlier. I know a glamourous life isn't it, 5-star dining!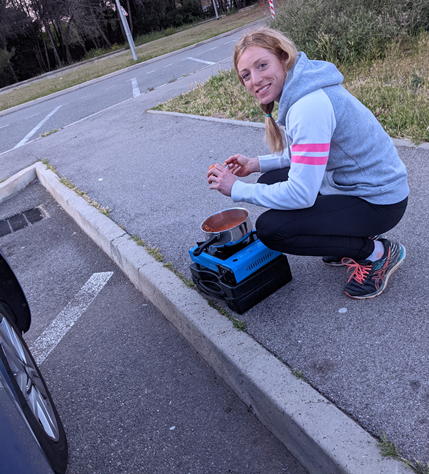 The next day we pick up breakfast, in a "covid secure way" and take it back to eat in our small hotel room. Then guess what, more driving. This time nearly 2-hours north into the mountains of the South of France. A beautiful setting but small little road to get there. We arrive and see the new 2022 bikes for the first time being photographed with the mountainous background. Beautiful! I was also happy as we were on a small farm and the donkeys in that field were super cute!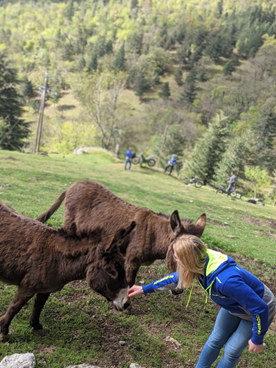 The next two days we spend filming and getting photographs. I was kind of hoping we'd get done in a day so I could get another day's training in but there's a lot of work goes into making these promotional videos and I kind of knew it would take both days. Here's promotion video finished, just in case you're interested:
Once we eventually finish, I am in a dilemma. Do we head south and do another day's training or start heading north and train for a couple of days on the way home? So, I check the weather and obviously decide to head south! ????
The next day after yet more driving we meet up with an old teammate of mine, Alex Ferrer and he takes us to one of his favourite training places. It is an amazing spot on the side of a mountain down near Marseille. Alex helps me with some training and James (my husband ends up sunburnt) as he cleverly decided to wear a t-shirt on a sunny day on a hillside without shade. How very English of him. Another video here for you to see what I was up to:
At this point I'm starting to feel tired as I've just had a tough training session and the long week of traveling no-stop is catching up with me. So I decide that rather than staying for another day in the south of France we head north, yep you guessed it another evening driving, heading for Paris this time. We stay the night in a Hotel Ibis just off the main road and decide that tomorrow will be the last training session of the trip as I am starting to feel fatigued, and James needs to get home anyway.
The next day we go to one of my favourite training places, not far from Paris, in the countryside. It's an amazing place for trials riding and we meet up with a friend who comes to help me with training. His sections are always BIG. He loves making me difficult sections and I enjoy it as I know I've had a good training session when he's around! See one of his sections here (the first step was horrible):
Now I'm totally knackered so we head to the Eurotunnel, but not before we make one final stop. A supermarket for French wine, only a few bottles (honest) but my father would not be happy if I came back from France wineless!
Our intention was to drive through the night, but we get to London look at the clock and it says 1:00am and we still have 3 hours to go, so we decide to book a hotel. We arrive and the receptionist comes running out to tell us to park near the hotel so he can keep an eye on the van because he's just caught some men trying to break into the vans in the car park and called the police! Which is just what I wanted to hear when my new bike and spares are in the back of the van. Anyway, he assures us he's on high alert and will watch the van all night so we can sleep easy. We decide that's got to be worth a bottle of French wine, so we gift him with a bottle get some sleep. The following morning we're relieved as the van is still there and we hit the road for the final time and head home to catch the Forumla1 at the Circuit of Catalunya, where we were just days before.
What's the moral of the story… always return from France with a little bit of wine for the family… and for emergencies!
More stories of my travels in Europe to come soon - stay tuned!