Find stories, riders,
ambassadors

Motul
09 December
In the late 1980s and early 1990s, one bike stood head and shoulders above the rest – Steve Burns' Spondon GSX-R Monster. At the time, it was impossible to pick up a motorcycle magazine that didn't feature his wonderful creation. Self-built, and aided by turbocharging, it was one of the fastest street bikes of its era and, with a fetching Motul livery, it was, in our eyes, one of the coolest, too. Last week at the Motorcycle Live show, we unveiled a tribute to the Monster, so we thought we'd give Steve a call to find out more about the original and what he thought of our reincarnation.
Steve, how did your collaboration with Motul come about for the original Monster?
Sam Mather from Euro Helmets sponsored my drag racing efforts from 1986 to 1990 with Motul products. Motul didn't actually sponsor the Monster bike build; it was more a decision by me to put the Motul theme on the bike to thank Sam for his help. We added the Motul graphic down the side. As the bike is asymmetrical, we painted just one side to go with your symmetry of the tank and so on. I just tried to push the envelope, but I didn't know it would be as popular as it was. People were a bit gobsmacked to see something that futuristic.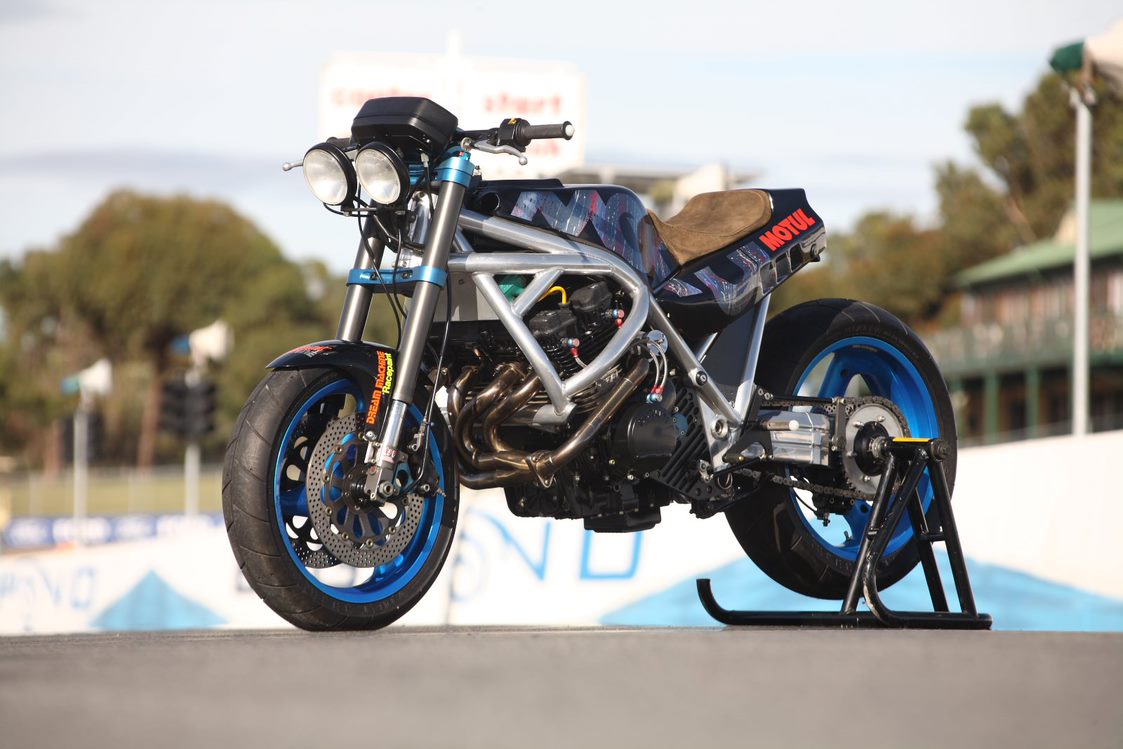 How did the project come about back then?
It all started in 1983 when I built my first steel-framed Spondon using my turbocharged GSX 1100 donor bike. However, soon after, I, unfortunately, had a road traffic accident which left me partially paraplegic. During the rehabilitation period, a friend of mine stripped the bike down, and brought the frame into the hospital and left it at the end of my bed. The whole front was smashed out of it. I rebuilt the Spondon, which was featured in Performance Bike magazine in 1986. Later in 1989, I rode the bike into the Guinness Book of Records, achieving the record for the fastest motorcycle on one wheel (150mph). Shortly after that I would get invited to perform wheelie demonstrations at various events, one of which at Truck Fest at Aintree saw me flip the bike over and damage the Spondon frame! It was this that prompted the build of the Monster bike….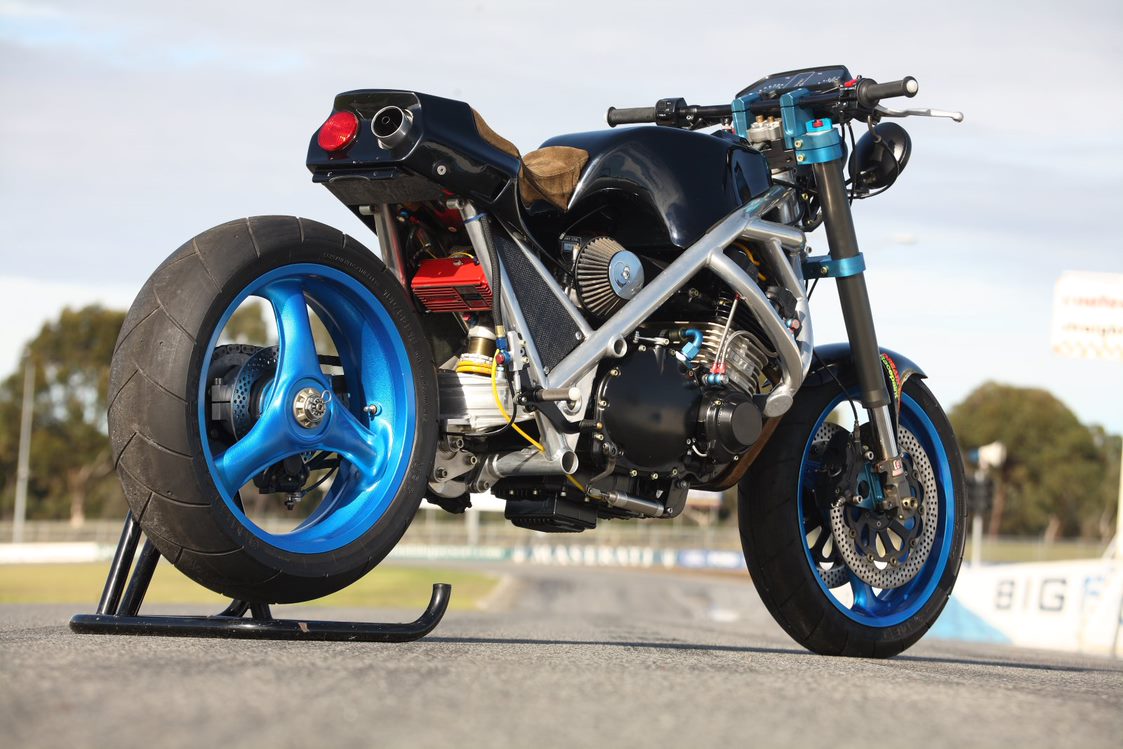 OK, so the Monster was the outcome of that crash? What happened next?
Spondon engineering was trying to take its manufacturing base away from steel into aluminium frames and suggested that rather than repairing the steel frame, we should build a tubular alloy frame around the same platform. I contacted Performance Bike magazine and told them the plan and they were interested in featuring the build over a six-month period. The series of features was well received and still talked about today. I suppose with a power-to-weight ratio better than an F1 car at the time and the rawness of the big tube, minimalistic design, it surprised a few people. In 1986, after my rehabilitation, I got into drag racing. Superbike magazine had a competition called Ultimate Streetbike where everyone with a fast street bike would be invited to a drag race. It went on for about five years, but it meant we all developed our bikes to go faster. I won quite a few of those and the bike was pretty quick and that's how I developed the turbocharger for the engine. Then someone suggested to me that I should enter the world record for the bike. At the time it was 137mph, and I hit 150mph. I did a few more things with it, like magazine shoots, I rode it to Holland and did a top speed run, and that was that. I parked it and got on with other projects. The bike only covered 750 miles since new.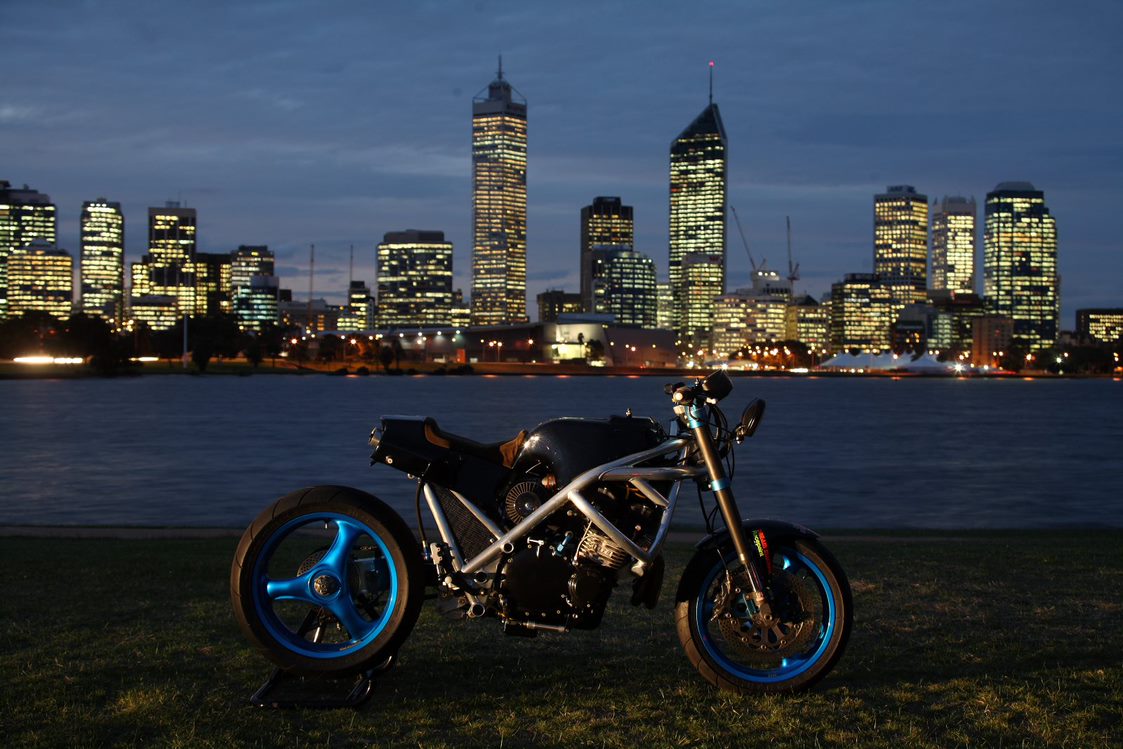 What was the bike like to ride?
When you wheelie a motorcycle, the hardest one to do is a first-gear wheelie because everything happens so fast. The faster you go, the easier it is to wheelie because the rate of ascent and descent is slower. That wasn't a problem I had with 180hp and a short wheelbase. The thing wanted to flip in every gear and the idea was to hold it just off the ground to get maximum traction. I was almost doing it unintentionally.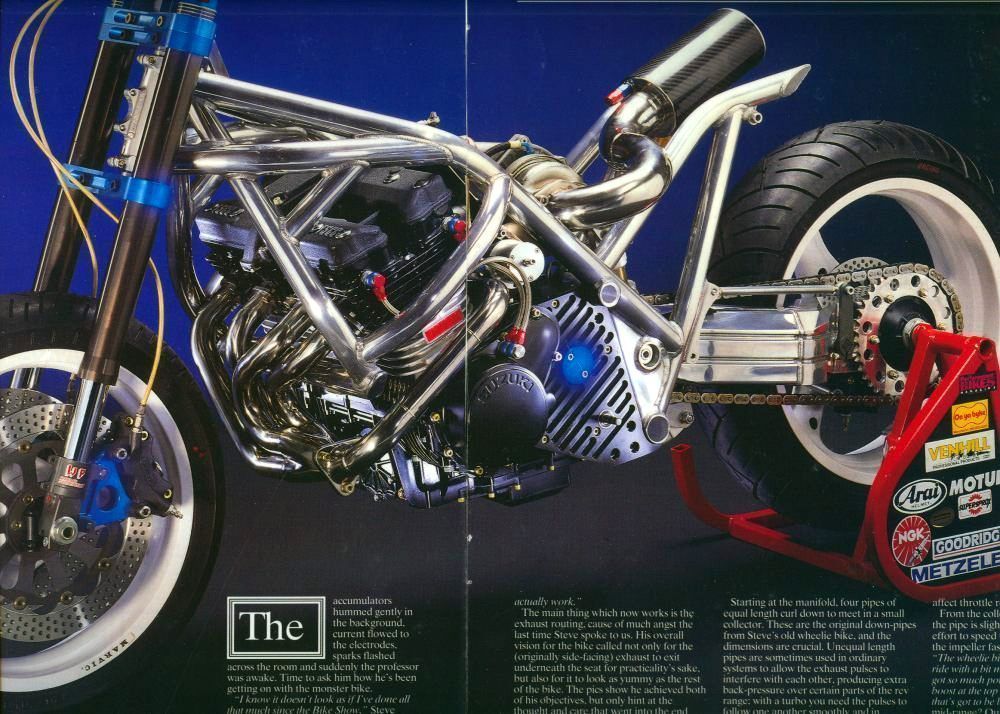 What did you do after the Monster?
After that I started building race bikes and formed my own world endurance team in 1993, being involved right up to 2007 when I emigrated to Australia to teach motorsport engineering at university. Over the last ten years, I've worked as a self-employed contract design engineer mainly for the marine industry, but just recently I've started to build bikes again. I've got two projects nearly complete.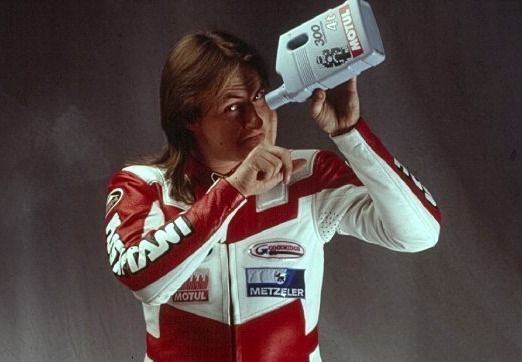 And whatever happened to the Monster? Do you still ride it?
I still own the Monster bike. It sits in my home office here in Australia. I don't ride it anymore. I know what it's capable of, but over the years I've realised I get more enjoyment out of building them than riding them. Having said that, I do still love to get out and ride with my mates in England and Europe. But the fast bikes are hard to ride as the clutch is heavy and so on.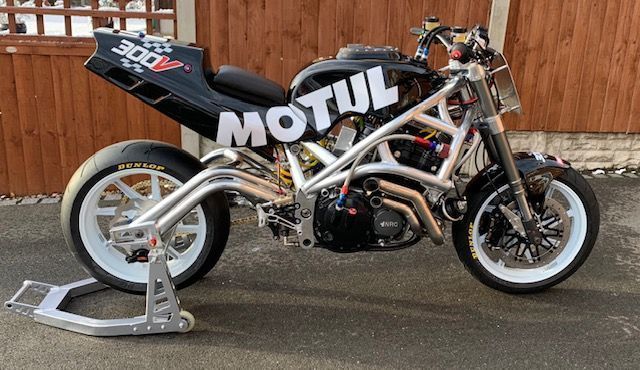 What do you think of Motul's tribute bike that was unveiled at Motorcycle Live?
As far as the tribute bike is concerned, I appreciate Motul thinking that much of the original that it warranted a project similar to my bike some 30 years later. The builder has made a good job. It looks neat and tidy! I'm not going to wax lyrical about it being a replica because it isn't and never will be, but nevertheless, my thanks go out to Motul who organised to create the tribute. It was worth doing.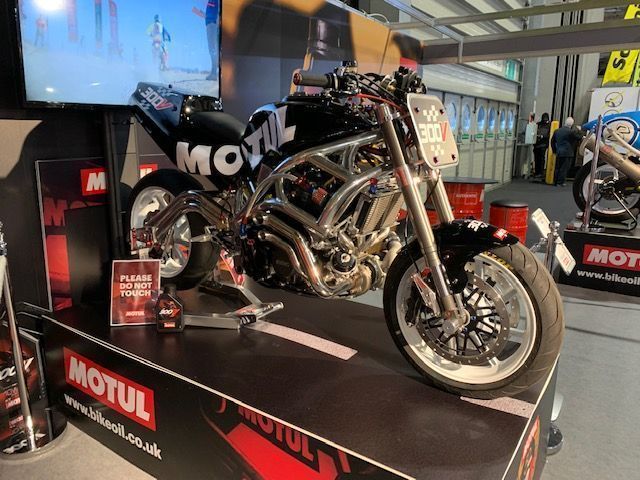 Check out the original Steve Burns Spondon bike in action: